WELCOME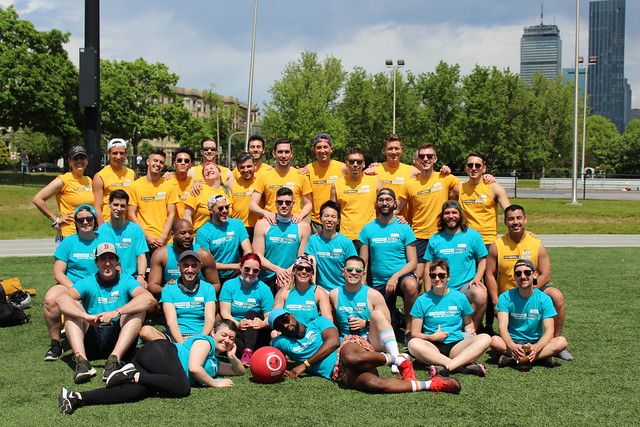 STONEWALL SPORTS BOSTON SPRING 2022 - Registration OPEN!
We're happy you're here! Whether you've played a sport before or not, it doesn't matter. Please join us and enjoy the game of kickball, meet new people, make friends and most of all, have fun.

Find all of the information below on what to expect at Stonewall Sports Boston Kickball, Spring 2022.



GET TO KNOW US, KICKBALL LEADERSHIP
Commissioner: Mark Leonardo
Sports Director: Candi Wills
Kickball Coordinator: Matt Katon
Email us with questions by clicking on our names.

Stonewall Sports Boston Kickball Spring 2022 season will be split into two divisions, Time to Slay & Just for Kicks. Both divisions will be fun and social.

Time to Slay will be our more competitive division. Just for Kicks will be for those that just want to have a fabulously fun time and be social. We hope to have enough teams for both our Time to Slay and Just for Kicks divisions. But if not, we may have to combine both to create one big league.

Register to CAPTAIN
Register as a PLAYER

Whether you've played kickball or not, this is a great opportunity to get involved and volunteer. Meet new people, learn the game of kickball and make new friends. You can find the Stonewall Kickball Rules above.

Interested? Questions? Email Bruce Kynoch, Kickball League Head Umpire boston.umpire@stonewallsports.org

You can also sign up to become a substitute player for our Spring 2022 kickball season.




Registration Details
Fall Kickball Starts: Sunday, March 27, 2022
Fall Kickball Ends: Sunday, June 5, 2022
REGISTRATION

Opens: Friday, January 28, 2022
Closes: Wednesday, February 23, 2022
LOCATION: Franklin Park Playstead
Google Maps
Easily accessible by the T (Orange and Green lines), bus and car.

Minimum age: 21 years old
Maximum age: 90 years old
Age (21) as of: March 27, 2022
Registration Fees
Stonewall Sports Boston Kickball is 50 dollars per player + processing fee.
Registration Includes
8 weeks of games, includes playoffs
2 games/Sunday
Bathrooms
Uniform/tees
Financial Assistance
All Equipment (excludes shoes; We encourage cleats - non metal - or soccer shoes)
Playoffs on week 8 of season.
Fall 2021 Kickball Schedule
March 27 - Week 1
April 3 - Week 2
April 10 - Week 3
April 17 - NO GAMES, Skills Workshops
April 24 - Week 4
May 1 - Week 5
May 8 - NO GAMES, Skill Workshops
May 15 - Week 6
May 22 - Week 7
May 29 - NO GAMES - Rain Day
June 5 - End-of-Season Kickball PLAYOFFS
How do I join Stonewall Boston kickball?
There are three ways you can participate in a Stonewall Kickball season as an active player. First pick if you want to play on more of a social setting, this would be the Just for Kicks division. If you are social, but want a more competitive play, sign up for the Time to Slay division. Then follow the steps below.

Create and captain a team

Creating your own team and acting as the team Captain gives you control over how you build your roster. You can recruit up to 18 players but must have a minimum of 14 players and will be given free agents to round out your team if you fall short

Join an existing team as a Team Player

Stonewall Kickball teams are coordinated first by the Team Captain. Before completing the registration process, please ensure that a captain knows you will be taking up a player spot on their team. This prevents any confusion for the team roster and you may be asked to leave a team if you don't get permission first.

Join as a Free Agent

I want to play but I don't have a team. That's great! This league is about making new friends. Register as a free agent, or if you have a small group of friends, create a "small group" and we will do our best to place you on an open team all together. We are also planning to host an open play free clinic to run through the rules, play kickball and teach some fundamentals. It'll be a great way to meet new players, Team Captains, and potential new team players. Remember, even if you've never played before, it's fun and we encourage you to join us!
How do I apply for financial assistance/Scholarship Program?
We are accepting requests for our Scholarship Program to cover full or partial Stonewall Sports Boston player registration costs. For full details and to apply for our Scholarship program, APPLY HERE. If you have questions, please email us boston.finance@stonewallsports.org
What are the rules for Stonewall Kickball?
Stonewall Kickball is a sport for all participants for any skill level. We are here to encourage you whether you've played kickball before or have never played. We will be holding at least one open play game prior to the start of the season to help educate anyone interested in playing and learning more.
All registered players and officials of the game will be bound to following the official Stonewall Sports Kickball Rules during game play.
Check out this video filmed by our friends in Cleveland highlighting kickball basics.

What do you need to know to be a Captain?
All Stonewall Sports Boston Team Captains should be excellent communicators, mediators and leaders.

As a Team Captain you will be responsible for:


Communicating essential information about schedules, locations and events

Team cohesion and healthy interaction between your team members and other participants

On-boarding of your free agent players, helping them learn the game and transition fully into the team and become a team member and hopefully a friend

Management of line-ups, positions and general information about the sport

Assist the Board of Directors with making sure your team is following all Covid safety rules and regulations to ensure a safe season for everyone.

Ensuring that everyone adheres to the Stonewall Sports Boston code of conduct


Each team MUST also provide at least 2 line referees for each week at a scheduled time separate from their game. These positions will need to pass a test showing they have a clear understanding of the rules to assist the umpire in calling the game.



How can I volunteer?
We will need and be looking for umpires to undergo our certification process for this season. Any interested persons should contact boston.operations@stonewallsports.org

We will be holding an umpire certification session before the season starts. We will email interested participants and also post on social media when more information is available.

Teams MUST also provide at least 2 line referees for each week at a scheduled time separate from their game. These positions will need to pass a test showing they have a clear understanding of the rules to assist the umpire in calling the game, but you don't necessarily have to be on a team to become a line referee.


If I have questions or concerns about the league, who can I reach out to?
How will team play, schedule and uniforms be determined?
The official Spring kickball 2022 season will launch on March 27, 2022. Please check your email weekly once you are registered to get your playing time, opponents and field and/or reach out to your Team Captain.

We will also work towards adding the kickball weekly standings to this web site.

Uniforms colors will be drawn a minimum 3 weeks before the season starts to give us time to get uniforms prepared. Stonewall Sports Boston and sponsorship logos cannot be altered once you receive your tee shirt. See the kickball rules for more information on what is/is not acceptable for team uniforms.

Teams will have a minimum of 14 players, and no more than 18 players. If we find teams that are unable to meet the minimum, we might have to combine team(s).

Please visit our Resources Page to read more about our COVID-19 guidelines, Code of Conduct and more.

Stonewall Sports Boston is also committed to safe play during the pandemic. We will continue to clean equipment weekly and have sanitation wipes and hand-sanitizers at the fields.

We are committed to keep contract tracing in place. If anyone is diagnosed or is exposed to anyone with COVID-19, please notify your manager. Your manager will then reach out to someone on our leadership team via this link. We will notify any and all parties that may have come in contact with potential exposure and all information gathered will be kept confidential. Thank you.

Stonewall Sports Boston is an inclusive, fun community where everyone is welcome. Please follow our Events Page for further info and of course keep in touch with us on Facebook & Instagram.